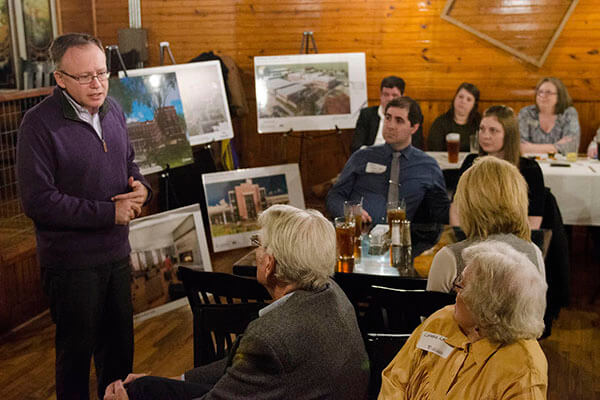 The University of the Ozarks' Office of Advancement and Alumni Engagement has scheduled several alumni events throughout the region as well as other areas starting in mid-January and stretching into April.
The events are opportunities for Ozarks alumni to hear from University representatives about the University and to meet and reconnect with fellow alumni. All events are free to attend and alumni are encouraged to bring their family members.
If you would like to learn more information about an upcoming event, suggest an area to have an alumni gathering or RSVP for an upcoming event, please contact the Office of Advancement and Alumni Engagement at 479-979-1234 or alumnioffice@ozarks.edu.
Upcoming U of O alumni events:
Dallas/Fort Worth
• Jan. 16: 6:30 p.m. at MASH'D, 2948 Crockett St, Fort Worth, TX
• Jan 17: 11:30 a.m. at The Henry, 2301 Akard Street, Suite 250, Dallas, TX
• Jan 17: 6:30 p.m. at Sixty Vines , 3701 Dallas Pkwy, Plano, TX
Tulsa, Oklahoma
• Feb 4: 6:30 p.m. at McNellie's Pub, 409 E 1st Street, Tulsa, OK
Little Rock, Arkansas
• Feb 6: 11:30 a.m. at Trio's, 8201 Cantrell Rd, Little Rock, AR
• Feb 6: 6:30 p.m. at The Copper Grill, 300 E 3rd St, Ste 101, Little Rock, AR
Northwest Arkansas
• Feb 27: 11:30 a.m. at Crystal Bridges, 600 Museum Way, Bentonville, AR
• Feb 27: 6:30 p.m. at Farrell's Lounge Bar & Grill, 311 W. Dickson St, Fayetteville, AR
El Salvador
• March 2-5: To Be Determined
Belize
• March 5-6: To Be Determined
Chicago, Illinois
• March 20: 7:00 p.m. at SPIN Chicago, 344 N State St, Chicago, IL
Fort Smith, Arkansas
• March 31: 6:30 p.m. at Stonehouse Chaffee Crossing, 8801 Wells Lake Rd, Fort Smith, AR
Clarksville, Arkansas
• April 2: 6:30 p.m. at Kasper's, 501 N Johnson St, Clarksville, AR