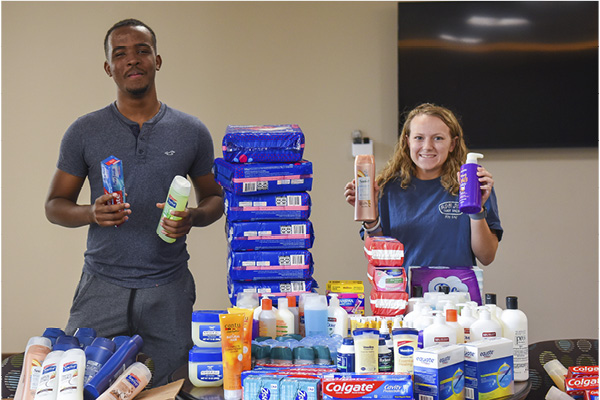 (Photo: U of O students Marck Berotte and Hannah Smith display some of the more than $700 worth of personal hygiene products that were donated to the campus food pantry recently by the Alumni Association's Board of Directors.)
The University of the Ozarks' Alumni Association Board of Directors recently donated more than $700 worth of personal hygiene items for U of O students.
The 31-member board coordinated the donation efforts during its annual summer board meeting, held July 16 on campus.  The items will be distributed to students in need during the upcoming academic year through the University's campus food pantry.  
The items included, toothpaste, toothbrushes, deodorant, soap, shampoo, conditioner, razors, shaving cream, lotion and feminine products.
"Incoming and returning alumni board of directors had a chance to give back to the students at U of O and help fill the pantry," said Shannon Huggins '91 of Arlington, TX, president of the Alumni Association Board. "Knowing that the students' focus should be on taking the next steps to achieving their goals instead of taking steps to find necessities for everyday living, such as hygiene products, the board was delighted to help make this possible with a record load of products to donate."
Huggins said the board considered several options to help students before deciding on hygiene products.
"Knowing that the student population is growing more diverse, thoughtful steps were taken to provide a wider range of products," she said. "It is always a great way for the alumni, young and old, to remember that to put your best foot forward, you have to feel your best.  It can begin with something so simple like your daily morning routine."
The July board meeting was the first one for five new members of the board: Torie Parsons '09 of Dallas, TX; Alexander Chandler '12 of Conway, AR; Thomas Ross '18 of Dallas; Jeremy Provence '12 of Muscle Shoals, AL; and George Pittenger '91 of Cleburne, TX.
Other board members include, Brittany Brantley '13, Corey Pintado '15, Cori A. Dyson '97, Cyleste Coppage '97, Daniel Sigala '02, Daniel Valencia '17, David W. Morris '83, Elizabeth Allcon '91, Emily Towe '12, Evan Castleberry '17, Fernando Galindo '96, Irene Gillespie '70, Jacobi Crisler '06, Jennifer Fisher '93, Lisa Gruben-Inness '93, Loscar Mejia '01, Meredith James '93, Naomi Lee '85, Paulette Freeman '80, DeeDee Autry '87, Sam Ballard '09, Scarlet Morris '86, Shannon Huggins '91, Sonia Gonzalez '00, Taylor Jacks '12 and George Lee '85.
Topics: About, Alumni, Student Life