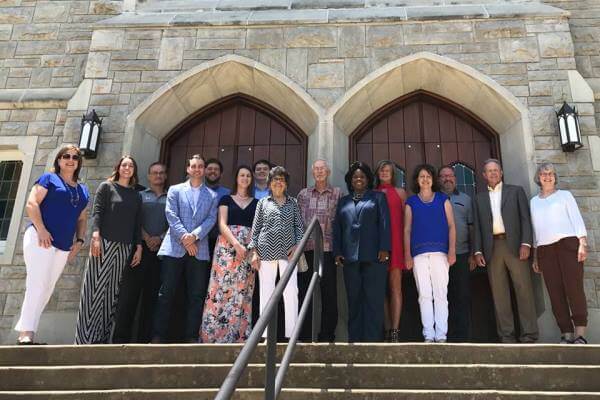 The University of the Ozarks' Alumni Association Board of Directors approved an initiative to create a strategic plan for the representative body during its Feb. 18 meeting on campus.
"This strategic plan would serve as the alumni board's vision?creating measurable goals and guiding directors in the excellent work that they do," said Brett Wood, director of alumni relations.
The four areas of focus for the plan will be stewardship/fundraising, prospective students, current students, and alumni. The board will work closely with the alumni office and other University administrators to look at the ways in which they can assist in these areas. They hope to have the strategic plan completed by the end of the 2017-2018 fiscal year.
Another highlight of the February board meeting was the announcement of several monetary awards that were given by the board. The student organization Rotaract received $2,000 for a service project with alumni in El Salvador. The University's Chamber Singers received $2,000 for their upcoming three-state choir tour. And, $250 was awarded to the Office of Student Affairs to be used as prize money for the student Arch Symposium in April.
Five new members were also elected to the board: Cheryl Ziegler '86 of Clarksville; Scarlett Morris '86 of Springdale, Ark.; Amy Patton '10 of Bryant, Ark.; Shannon Huggins '91 of Arlington, Texas; and Katie Adan '08 of Jackson, Miss. In addition, the board elected a new executive committee that will begin serving two-year terms on July 1, 2017. The new executive committee includes, Mark Watkins '76 as president; Bill Ballard '56 as vice president; Tyler Wilson '11 as treasurer and Jessalyn Halsted '08 as secretary.
The Alumni Association Board of Directors meets three times a year on campus. The board is made up of alumni who represent the greater alumni body. The board is currently made up of four committees: executive committee, finance committee, connections committee, and nominations committee. During their time on campus, they get updated on everything Ozarks and discuss ways to improve alumni engagement. The board provides valuable insight into the needs of alumni to the alumni office.
For more information on the Alumni Association Board of Directors or to find out how you can get involved, please visit our website at alumni.ozarks.edu/Get-Involved. Also, please feel free to contact Director of Alumni Relations Brett Wood at bwood@ozarks.edu or give him a call at 479-979-1234.
Topics: About