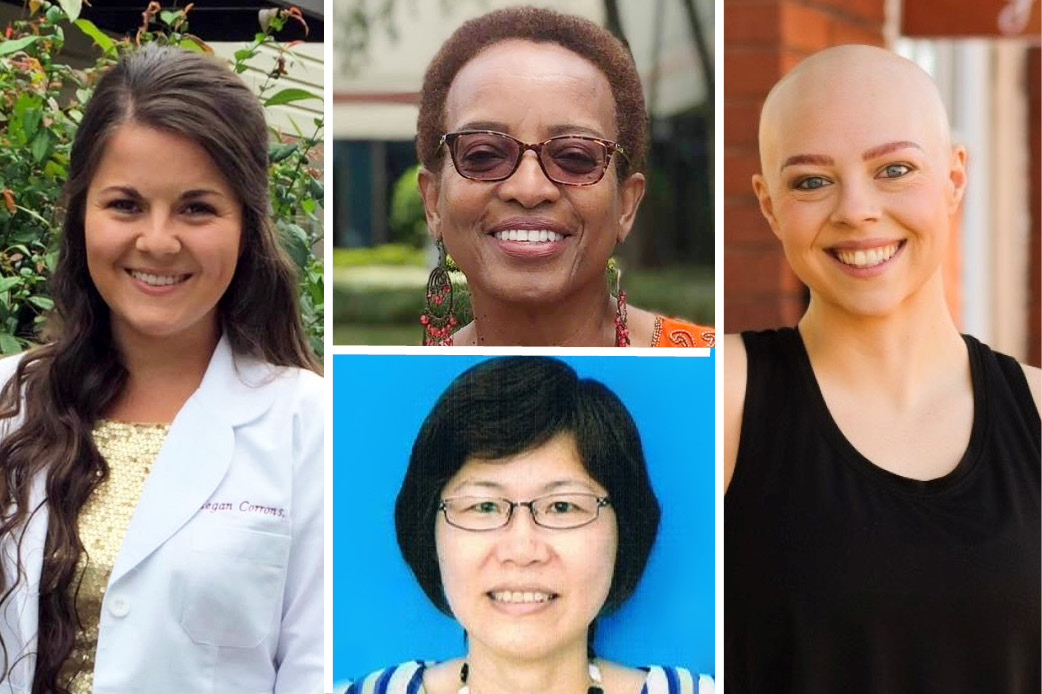 The University of the Ozarks Alumni Association will honor four female alumni whose graduation years range from 1968 to 2019 during the Ozarks Awards Ceremony, held in conjunction with the University's Homecoming 2022.
The event is scheduled for 6 p.m., Friday, Oct. 21, in the Rogers Conference Center. Tickets for the event are $25 and can be purchased by visiting: https://ozarks.edu/alumni/homecoming/homecoming-registration/
The Alumni Association will present (pictured, clockwise from left) Dr. Megan Minniear-Corrons '12 of Clarksville with the Young Alumni Achievement Award; Jacquelyn (Lawrence) Hampton '68 of Stone Mountain, Ga., with the Alumni Merit Award; Falon (Hanson) Brueckner '19 of Clarksville with the Young Alumni Service Award; and Dr. Chaw Lee Yen '87 of Malaysia with the Alumni Achievement Award.
Minniear-Corrons was raised in Clarksville, graduating from Clarksville High School in 2008. At Ozarks, she majored in biology with a chemistry minor, graduating with Summa Cum Laude honors in 2012. She graduated from medical school at the University of Arkansas for Medical Sciences (UAMS) in Little Rock in 2017. She spent three years training to be a family medicine physician at UAMS in Fort Smith before ultimately returning home to Clarksville to set up a family practice clinic and give back to her community that invested in her. She currently works for Mercy Clinic Primary Care in Clarksville where she provides compassionate care to people of all ages. She and her husband, Nathaniel Corrons, were married in 2016. They have two dogs and a cat.
After graduating from Ozarks in 1968, Hampton, the first in her family to earn a college degree, went on to a long and distinguished career in teaching, counseling and child welfare. For most of her career, she was a consultant for child welfare agencies and a grant reviewer for federal and private agencies. She has authored several published articles, conducted numerous workshops and served as a featured guest speaker on topics related to child welfare and black family issues. She has also served on several boards and advisory committees in the child welfare/disabilities field. Hampton received a master's degree in social work from the University of Kansas (KU) School of Welfare and completed all but the dissertation towards her Ph.D. Hampton's past efforts to engage with other African American Ozarks alumni have resulted in her hosting Black Alumni gatherings, and her contribution was among one of the first to be made to the Black Alumni Endowment. Her late husband, Henry, was also an Ozarks alumnus. She has two children and two grandchildren.
Brueckner graduated from Ozarks in 2019 with a degree in business administration and strategic communications. Immediately after graduation, she left her home state of Arkansas to begin an internship with H-E-B in Texas. Working in the Public Affairs Office, she coordinated volunteer events at the Dallas Food Pantry and provided groceries for the Dallas Resource Center.  After spending two years in Dallas, she decided to move back to Arkansas to be closer to her family. She became the manager of 24 Hour Family Fitness in Clarksville and received certifications to be a yoga instructor, personal trainer, and sports nutritionist. She became the owner of Shine Yoga Studio in December of 2021, and has used that space to give back to the Clarksville community and bring Johnson County together. She has coordinated fundraising events for charities, including the Fun Run for Breast Cancer and Hike & Yoga for Mental Health.  Brueckner continues to stay involved at Ozarks by teaching yoga classes for students and faculty. She has taught a yoga class for the Women's Empowerment Club, Alumni Weekend, and plans to teach a class for Freshman Orientation this year. She married fellow Ozarks graduate Aaron Brueckner '11 in July of 2022, and they spent their honeymoon on a mission trip in Albania teaching English to high school and college students.
Chaw is an assistant professor and head of master programs at UCSI Graduate Business School in Malaysia. She received her bachelor's degree from Ozarks with majors in management and business administration before going on to earn a master's degree in information technology from University Putra Malaysia and a doctor of business administration from Multimedia University in Cyberjaya, Malaysia. Prior to joining the educational sector, Chaw had 10 years of experience with two multinational corporations owned by Taiwanese and Japanese operating in Malaysia. Her research interests include, online education practices for university students, mobile apps and user acceptance, mobile applications, tourism management and human resource management. She was one of the recipients for a Research Excellence Award 2021 under the category of Best Innovation and Commercialization, awarded by Centre of Excellence for Research, Value Innovation and Entrepreneurship (CERVIE) at UCSI University.
Topics: Alumni