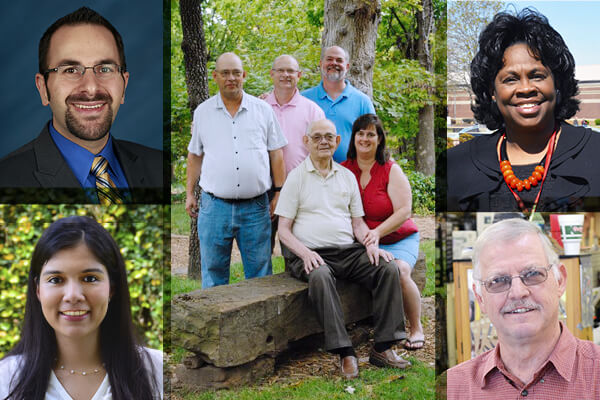 The University of the Ozarks' Alumni Association will recognize four distinguished alumni as well as a family with deep ties to the University during its annual Alumni Awards Ceremony, scheduled to take place during Homecoming 2018, Oct. 25-28.
The awards ceremony will be held at 6 p.m. on Friday, Oct. 26, in the Rogers Conference Center. Tickets are $25 and can be purchased at www.ozarks.edu/homecoming or by calling the Alumni Office at 479-979-1234.
This year's honorees will include, Fidel Samour '08 of Little Rock, Ark., with the Young Alumni Service Award; Maria Denise Duarte '08 of Managua, Nicaragua, with the Young Alumni Achievement Award; Kent Cecil '80 of Clarksville with the Alumni Achievement Award; Kaye (Bagsby) Person '77 of Tuckerman, Ark., with the Alumni Merit Award; and the Jimmie '52 and Laura Anne (Self) Thames '52 family with the Alumni Legacy Award.
Fidel Samour '08
Samour serves as the director of community clinical programs at Arkansas Children's Hospital in Little Rock, where he has worked since 2008. He manages statewide mobile dental clinics that reach underserved children in Arkansas and is also leading a telemedicine pilot program in several Arkansas schools.  Samour, who earned an MBA from the University of Arkansas at Little Rock in 2014, serves as board president of Reach Out and Read Arkansas, an early literacy program that works with pediatricians across the state to encourage reading in children under the age of five. He is also a board member for Ronald McDonald House Charities of Arkoma.
Maria Denise Duarte '08
Duarte is the country manager in her home country of Nicaragua for Agora Partnerships, a non-profit organization that helps entrepreneurs throughout Latin America access the resources they need to grow. She leads a team of consultants in projects to assist women entrepreneurs through both traditional and innovative programs. The former Walton Scholar at Ozarks graduated with Summa Cum Laude honors in accounting, marketing and management and went on to earn an MBA from the Hult International Business School in San Francisco. She has also worked as a financial auditor at PwC Nicaragua and PwC Panama from 2008-12. She and her husband, Alvaro Artiles, have a young son.
Kent Cecil '80
Cecil is president and CEO of Cecil Hardware in Clarksville, a business that has been a staple in downtown Clarksville since his parents, Jack and Katie Cecil, purchased the former Rice Hardware business in 1960. A business major at Ozarks, Kent has worked at Cecil Hardware since he graduated from college and began managing it in 2006 when his father, Jack, passed away. Known for their customer service and civic-mindedness, Cecil Hardware remains a true family business. Katie is still involved in the business, as are Kent's wife, Terri; children, Chase Cecil and Amber (Johnson) Cecil; and daughter-in-law, Derenda (Landry) Cecil. Kent and Terri have been married for 39 years.
Kaye (Bagsby) Person '77
Person recently retired after 39 years as a teacher and educator, including 32 years teaching music in Tuckerman, Ark. She began her teaching career in 1977 as a teacher/director of the Taylor Street Child Development Center in Clarksville before spending the next five years teaching in Wynne (Ark.) schools. A native of Clarksville who graduated from high school at age 16, Person earned a bachelor's degree from Ozarks in applied voice and music education. In 1974, she became the first person of color to win the Miss College of the Ozarks Pageant and went on to become the first black woman to finish as high as second runner-up in the Miss Arkansas pageant, where she won the Coleman Dairy Overall Talent Award. After graduating from Ozarks, she earned a master's degree in elementary education from Arkansas State University. She met her husband, Paul Person '78, at Ozarks and they have one child.
The Jimmie '52 and Laura Anne (Self) '52 Thames Family
The Thames family has been associated with Ozarks for almost 70 years, dating back to when the late Rev. Jimmie Thames '52 and Laura Anne (Self) Thames '52 met at then C of O in the early 1950s. Jimmie and Laura were married for 26 years before she died in 1978. Jimmie, who served as a Presbyterian minister in Arkansas, Oklahoma and Texas for 42 years, passed away in 2015. Three of Jimmie and Laura's four children — Alan Thames '80, Jeff Thames '85 and Elizabeth (Thames) Allcon '91 — all graduated from Ozarks. The other child, Richard Thames, went into the United States Air Force out of high school. Both Alan and Jeff met their spouses at Ozarks — Alan's wife, Judy (Cordle) '81, and Jeff's wife, Angela (Phelps) Thames '86. In addition, family cousin Paul Beard '83 also graduated from Ozarks. In keeping with the family tradition, Elizabeth's daughter, Laura Allcon, is a freshman at the University this semester.
Topics: About, Alumni, Traditions