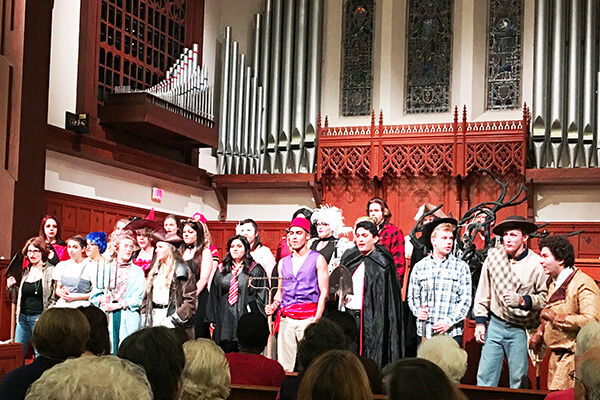 University of the Ozarks' music department will present the 18th annual All Hallows Eve Concert in Munger-Wilson Chapel, beginning at 7:30 p.m. on Saturday, Oct. 27.
The All Hallows Eve Concert is traditionally one of the University's most popular musical events of the year and will feature music by the U of O music ensembles, under the leadership of choral director Dr. Jonathan Ledger, as well as by Walton Professor of Music and University organist Dr. Sharon Gorman.
Dr. Gorman will present organ music that will include the traditional Toccata in D minor of J. S. Bach, as well as selections from Harry Potter, Superman, Stars Wars and other popular movies.
The choral numbers have traditionally included, Little Shop of Horrors, Shakespeare's MacBeth, Sam Pottle's Jabberwocky, Mendelssohn's Hexenlied and Disney movies Pocahontas, The Hunchback of Notre Dame and The Little Mermaid.
There is no cost for admission to the concert and it is open to the public. The program is child-friendly and audience members are invited and encouraged to come in costume.
Topics: About, Community Events, Music, Traditions