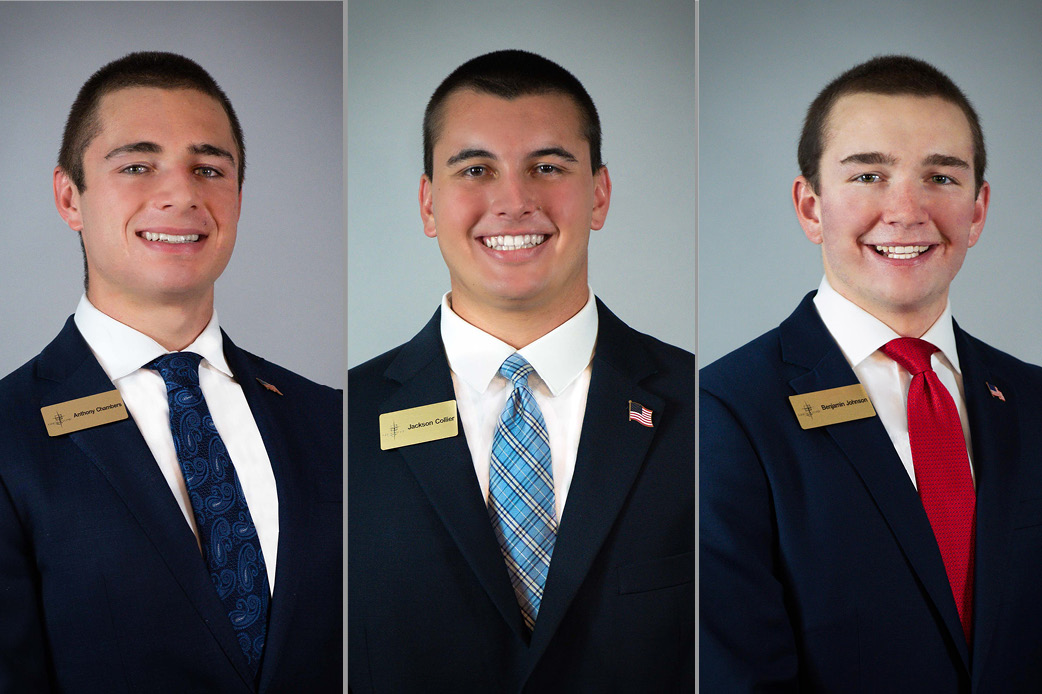 Three more students from the Greystone Preparatory School at University of the Ozarks recently learned they had received appointments into a U.S. military service academy.
Those students were (pictured from left) Anthony Chambers of Denver, Col.; Jackson Collier of Danville, Calif.; and Benjamin Johnson of Jackson, Miss.
The students are enrolled in Greystone, a one-year, college-level academy prep school that prepares students for nomination, appointment and success at one of the country's five military service academies. Greystone moved to the U of O campus in 2020 after spending the past 16 years in Texas.
Chambers said he was left speechless after learning of his appointment to the United States Military Academy at West Point.
"I honestly couldn't believe that this dream had come true," he said. "I immediately thought of my family and friends and how grateful I am for their support. I couldn't wait to tell them the good news."
Chambers said his year at Greystone and at U of O were instrumental in helping him achieve his goal.
"I developed in all aspects of my life and had the opportunity to meet so many amazing people," he said. "In terms of my personal growth, Greystone and the University helped me prepare for the academy as a scholar, athlete, and leader. My time here has helped me become a more well-rounded leader. I will forever be grateful for the relationships I created at Greystone and the University. Commander Bailey, Mrs. Bailey, President Dunsworth, and my teammates are only a few of the people here that have been instrumental in helping me reach my dreams."
Collier learned of his appointment to the United States Naval Academy through a phone call from his parents.
"When they told me about my appointment I felt as if a huge weight had been lifted off my chest," Collier said. "I started to choke up, my eyes began to tear up and I was in complete disbelief at what I was hearing. As soon as my shock and disbelief went away, I remember being extremely happy and felt accomplished at all the hard work I had done this past year. It was truly a feeling that I will always remember."
Collier said that Greystone and Ozarks "has taught me many life skills and has exposed me to many opportunities and experiences that I am incredibly thankful for."
"If I had received an appointment last year, straight out of high school, I definitely would have had a hard time at an academy," Collier said. "I am thankful for having this extra year at Greystone and Ozarks to prepare mentally, physically, and emotionally for life at the Naval Academy, and into my military career."
Johnson was admitted to West Point through an Association of Graduates sponsorship. He will attend a prep school and will enter the U.S. Military Academy next year as a member of the Class of 2026.
Other Greystone students who had previously earned one or more appointments to the service academies included, Noah Harding of Roanoke, Va.; Jimmy Nguyen of Garland, Texas; Troy "Trapper" Erwin of Schertz, Texas; and Amar Rodgers of Cibolo, Texas.
Topics: About, Student Stories