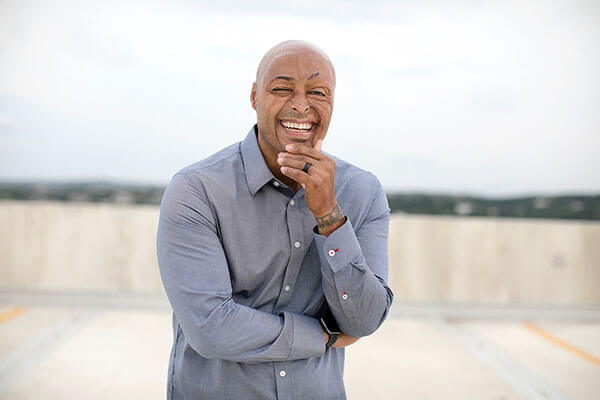 J.R. Martinez, an actor, best-selling author, motivational speaker, advocate and wounded U.S. Army veteran, will speak at University of the Ozarks on Thursday, Sept. 19.
Martinez's talk, titled "Facing Adversity with Optimism and Resilience," will kick off the University's 2019-20 Walton Arts & Ideas Series. The event begins at 7 p.m. in the Rogers Conference Center and is free and open to the public.
Martinez, who lived in Hope, AR, between the ages of 9-17, joined the army following high school. In September of 2002, he was assigned to the 2nd Battalion, 502nd Infantry Regiment of the 101st Airborne Division.
In March of 2003, he was deployed to Iraq and a few weeks later a Humvee he was driving struck a roadside bomb. Three other soldiers were ejected from the burning vehicle, but Martinez was trapped inside. He suffered smoke inhalation and severe burns to 34 percent of his body.
He spent 34 months in recovery at Brooke Army Medical Center in San Antonio, TX. He has undergone 34 different surgeries since his injury.
Since then, he's traveled the world as a motivational speaker, talking with troops at various bases around the world as well as serving as the keynote speaker for Delta, Wells Fargo, Verizon, State Farm, General Motors, Red Cross and numerous other Fortune 500 companies,
His story may be unique, but his message is universal: Change isn't bad if you are willing to adapt.
"None of us knows what we're capable of until we're faced with a tough or unexpected challenge," Martinez said. "Often this means having to adjust your dream or vision and sometimes event to create an entirely new goal. It can also mean getting through a tough time a week, day, hour or even minute at a time. By focusing on shorter term goals and keeping optimism (and even humor) at the forefront, your entire outlook and perspective can be transformed. We are all stronger and more resilient than we think. In facing challenges and recovering from setbacks, we have new opportunities to develop the unique gifts that have been given to us. It's about being able to become more what you can envision at the moment."
On the Emmy Award winning ABC Daytime drama All My Children, Martinez played "Brot Monroe," a combat veteran who was injured in Iraq and returned home to face the new challenges of reintegrating to civilian life. After All My Children ran its final season in 2011, Martinez went on to surprise and inspire a nation as a contestant on ABC's Dancing with the Stars. Along with partner Karina Smirnoff, Martinez won the coveted mirror ball trophy as the show's season 13 champions.
Later he co-starred on the syndicated action series, SAF3 (CW Network) and also guest-starred in the season 6 finale of Lifetime's Army Wives. Martinez has been featured on many shows, such as The Oprah Winfrey Show, 60 Minutes, Ellen, The View, The Tonight Show, Good Morning America, CBS Nightly News, CNN, Fox News, HLN, and Univision. He narrated the CNN documentary series In America: Vets Wanted? He's served as a guest host on The View and ultimately hosted his own radio show, The J.R. Martinez Show, on KFI AM 640 in Los Angeles.
He has also been featured in the Los Angeles Times, Washington Post, New York Times, US Veterans Magazine, and was featured on the cover of People Magazine, and in their annual Sexiest Man Alive issue. Martinez is the author of the New York Times best-selling book "Full of Heart: My Story of Survival, Strength, and Spirit," a memoir about how he was able to take his own personal tragedy and turn it into an inspiration for others.
As a firm believer in giving back, his dedication to the nonprofit world is something about which he is very passionate. Martinez serves as an ambassador for Phoenix Society for Burn Survivors, Glasswing International,  No Barriers and Debra of America. Martinez resides in Austin, TX, with his wife, daughter and their black Labrador retriever, Romeo.
Topics: About, Community Events, WAIS