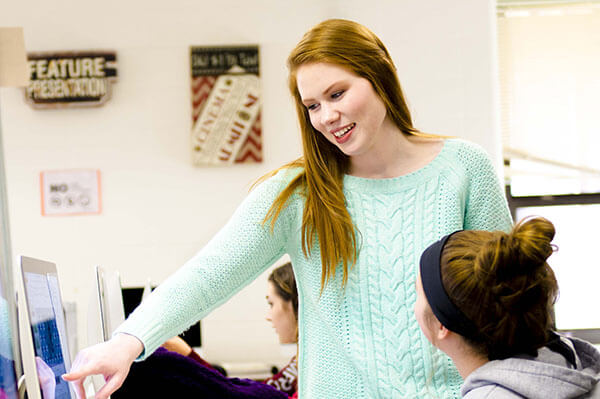 Teaching runs deep in Sarah Scroggins' family and she's excited about being the latest in a long line of educators.
The University of the Ozarks senior from Oark, Ark., is completing her Internship II at Lamar High School this semester. She will graduate in December 2017 with majors in business administration and business education, following in the footsteps of several family members who are also in education.
Her mother, Janet Scroggins, is a math teacher at Oark Elementary School, while older sisters Micah Scroggins and Rachel Scroggins Turner are both U of O graduates who were also bitten by the education bug. Micah, a 2012 Ozarks graduate, is a migrant education advocate for the Guy Fenter Education Service Cooperative in Branch, Ark., and Rachel, a 2013 Ozarks graduate, is a preschool teacher for the ABC program at Oark.
"I have always wanted to become a teacher because that's what I saw my mother do and it seemed like the perfect fit for me," Scroggins said. "I also had a great business education teacher, Deborah James, in high school and she really inspired me to go into this field."
Scroggins said she particularly likes to teach business classes because her students can quickly see the real-world applications.
"I love business and I know the importance of high school students knowing the basic principles of business," she said. "These classes provide a good foundation for future learning, no matter what careers they pursue."
The University's Pat Walker Teacher Education Program is considered one of the strongest in the region. According to the Arkansas Department of Education's 2017 Novice Teacher Survey, Ozarks' program exceeded or matched the state average in 16 out of 22 areas.
For example, in the category, "Designing coherent Instruction — learning activities, Instructional materials and resources, Instructional groups, and lesson and unit structure," Ozarks scored 3.47, compared to the state average of 3.18. In the category, "Creating an environment of respect and rapport — teacher interaction with students and student interaction with other students," Ozarks scored a 3.53, compared with the state average of 3.37.
"I can't say enough about my professors at Ozarks and how they've helped prepare me for the classroom," Scroggins said. "The support I have gotten from professors like Ms. Pam Terry and Dr. Brett Stone is unforgettable. The professors truly care about the students and want them to succeed. I'm so thankful that I came to Ozarks."
Scroggins said the time U of O education majors spend in the classroom before graduating is another significant advantage of the Ozarks program.
"I've learned so much from being inside the classroom with the students," she said. "We get double the time in the classroom than most other university internships. We have two semesters of internships, with 60 hours of observations in Internship I and the whole semester teaching within the classroom during the Internship II. The internships that we have are excellent and I feel like I'm ready for my own classroom."
Scroggins also has some advice for younger students who are going into the teaching field.
"I would tell them to never give up on themselves. Teaching is one of the most difficult fields to go into and sometimes it can get discouraging," she said. "You may find yourselves questioning if this is what you really want to do, but the reward of seeing your students' success makes you realize that it is not about you. Being a teacher is all about making a positive difference in the lives of children and I'm excited about that future."
Topics: Business Administration, Education, Internships