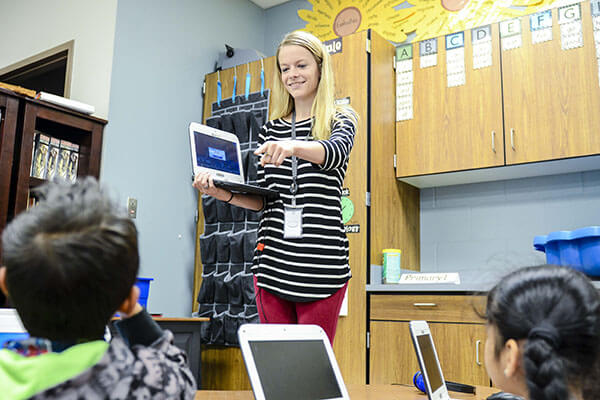 It didn't take Stephanie Alderson very long to figure out what career path was calling her name.
The University of the Ozarks senior elementary education major from Clarksville, Ark., knew that teaching and learning was in her blood, even at a young age.
"Teaching has been my dream since I was nine years old," said Alderson, who graduated from Oark High School in 2014 "I always loved school and would even try to persuade my parents into letting me go when I was sick. I have always wanted to grow up and become a teacher and I would talk my little sister and brother into being my students. I love showing children how awesome learning can be and all of the amazing things that can come out of learning."
Thanks to the University's Pat Walker Teacher Education Program, Alderson is just a few months away from earning her degree and beginning her professional career in front of the classroom.
She is currently serving the second semester of her year-long teaching internship in a first grade classroom at Clarksville Primary School, where she teaches a myriad of subjects including reading, writing, language arts, phonics, math, science, and social studies.
"I absolutely love it. The kids are so amazing," she said. "They love learning and they are always so attentive and eager to hear a new story or learn something new. I have so many different drawings and art pieces they have made me all displayed in my room. They welcomed me into their classroom with open arms and have been so amazing during my both of my internships."
Alderson said the hands-on experience she is receiving in the internship has reaffirmed that she is on the correct career path.
"I have no doubt that teaching is what I want to do for the rest of my life," she said. "My placement teacher, the principal, and all of the staff have been so supportive of having me at their school. My placement teacher, Mrs. [Heather] Dailey, has taught me so many techniques and strategies. She has been teaching for 19 years and I am so thankful to be placed with such an experienced teacher because I have learned so much. She is always encouraging me and giving me great advice and helping me become a better teacher. All of the teachers at Clarksville Primary collaborate and work together like a family and they have all welcomed me and have been great encouragers."
Alderson said the University teacher education program has guided and mentored her on her journey of deciding what direction in education to pursue.
"The education program at Ozarks is like no other," she said. "The faculty and staff are so supportive. They not only know your name, but they know your interests, your strengths and weaknesses and will help you accomplish your goals. We are placed in numerous classrooms starting our first semester in college. This allows us to really get an understanding of exactly what we want to teach and do in education. I started out wanting to become a high school English teacher and now I am about to graduate with a degree in elementary education. This is because Ozarks allowed us to start observing and teaching lessons from the start of our freshman year."
Alderson said the program's conceptual framework is especially beneficial for laying the foundation of her teaching philosophy.
"The framework is organized around four incredibly important themes: academic achievement, personal responsibility, social responsibility and fairness," Alderson said. "With these four themes and the underlying beliefs that teachers play a central role in social justice and that every student can learn and be successful, professors are preparing students for the real world and helping form our future educators. The University's conceptual framework promotes excellent teachers that encourage and promote student growth in all areas. We put these beliefs and themes into practice starting from our freshman year all the way through our senior year."
Alderson credited her education professors as well as her cross country coach for helping her achieve her life-long goal.
"Pam Terry has been one of my biggest motivators and inspirations," Alderson said. "She has always believed in me and my abilities, even when I haven't believed in myself. She has always been there to give me advice, listen to me vent, or give me a hug and tell me that I can achieve anything and that I am going to be an amazing teacher. When students walk into one of Ms. Terry's classes, they know immediately that they are valued and that they are welcomed. They know that someone believes in them and in their ability to achieve their goals and dreams. I hope to be as an amazing of an educator to children as Ms. Terry has been to me."
"Dr. Brett Stone has played a pivotal role in my journey as well," she said. "I have always known that I want to be teacher, but I never knew I wanted to teach elementary until the second semester of my sophomore year. Changing my major to this field so late can put many off track and make them have to stay longer when it comes to education because of all of the required courses within the state. However, Dr. Stone helped me form schedules and find summer courses so that I could stay on track and graduate in four years as planned. He always told me that we would get it done, as long as I stayed focused and worked hard. Without Dr. Stone believing in me and my abilities, I would not be graduating on time."
"My cross country coach, Jeremy Provence, has been one of my biggest motivators. Coach always stressed that we are truly student-athletes and that our education is very important. He had us meet for team study groups two nights a week. He always worked practices around our schedules and our educational extra-curricular activities. Also, Coach Provence always gave us Sunday mornings and nights off so we could go to church. He always helped me out with Fellowship of Christian Athletes when I needed a helping hand. I have grown so much closer with God here thanks to the support of my coach. Coach always believed in me and helped me find opportunities to become a better leader. He always emphasized the importance of going the extra mile in our classes, like we do in practice. I wouldn't be the person or the teacher I am today without coach instilling the values of grit and hard work in us when it comes to education, running, and our dreams."
Topics: About, Academics, Admission, Education, Internships