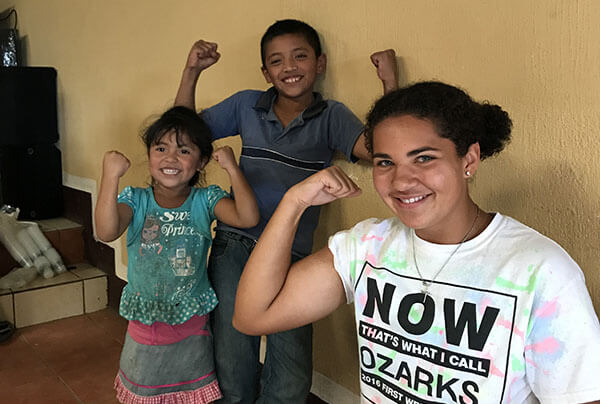 Despite the rigors of juggling academics and athletics, University of the Ozarks sophomore Sydney Key is always going to find time to lend a helping hand.
The health science major and softball player from Lamar, Ark., recently returned from her third mission trip to Guatemala with the Journey Church in Clarksville. It has become an annual tradition for Key, who started going on mission trips to the country in 2015.
"One thing that initially made me want to go was that when my mom was a kid, her family were missionaries down there," Key said. "I quickly discovered that I just really enjoyed serving and helping others. I found that it made me feel great to get involved."
The mission trips that Key has taken part in have provided medical services, assisted in construction projects and given out food bags of rice, beans and corn.
"We helped build a wall, with only hand tools, at an orphanage to help with getting everything ready for the new boys home they are trying to open," Key said. "With the medical team, we went into communities and set up clinics so they could see doctors and get treated for illnesses. We would also make food bags and give to the people who need food in those areas."
Ozarks Softball Coach Roland Rodriguez had Key talk to his team when she returned from her latest mission trip.
"I wanted our players to hear about her experience and for them to see the joy she gets out of helping others," Rodriguez said. "Sydney is the type of person who sees the world with her eyes wide open, always looking for what she can do to help people. And, she doesn't do it for the accolades or recognition. She genuinely enjoys it."
Key, who plans to pursue a career in athletic training, also serves as an orientation leader on campus, a role that fits her personality nicely.
"I first got interested in Ozarks because of softball, but I quickly fell in love with the school and the faculty; It's just feels like a big family that's super welcoming to everyone," Key said. "As an orientation leader, I get to welcome prospective students to campus and convey those same type of feelings I got when I first visited campus."
Having played softball since she was 4, Key said her coaches and professors help her juggle the many requirements of being a student-athlete.
"I love being a part of a team where we all have the same drive to get better and help the program succeed," Key said. "I thought it was going to be a lot more difficult to combine academics and athletics in college, but my professors work very well with athletes and are understanding if you need a little extra help with an assignment. They're always going to help you if you need it."
Rodriguez calls Key the "model" student-athlete.
"She's so giving, caring and unselfish — ideal traits that you want in a young person," he said. "Sydney is the type of person you'd want representing your softball team, your University and your community."
Topics: Athletics, Health Science, Volunteer