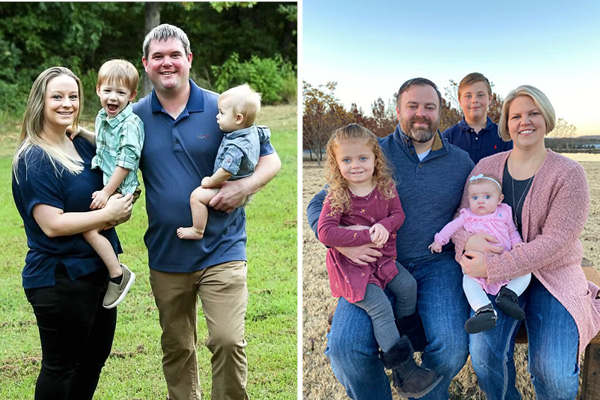 A pair of 2007 University of the Ozarks graduates, Nathan Williams '07 (pictured left) of Little Rock, Ark., and David Pridgin Jr., '07 of Scranton, Ark., have been chosen to receive this year's Emerging Philanthropist Award by the University's Office of Advancement and Alumni Engagement.
The awards will be presented during the Ozarks Awards Ceremony, scheduled for 6 p.m. on Friday, April 8, in the Rogers Conference Center. The ceremony is part of Homecoming Week.
The Emerging Philanthropist Award was established in 2019 by the University to recognize individuals age 40 or under who have demonstrated a record of exceptional generosity in support of Ozarks' mission and who have inspired others to give similarly.
"We appreciate our many supporters and are always happy to be able to recognize and honor our younger donors," said Lori McBee, vice president for the Office of Advancement and Alumni Engagement. "Both Nathan and David are philanthropic-minded young alumni who have demonstrated a commitment to Ozarks and to our students."
Williams has supported Ozarks since 2009 and joined with his family in creating the Debbie Williams Memorial Endowment Scholarship in memory of his mother and the long-time Jones Learning Center coordinator who passed away in 2017. Williams is a chemical hygiene officer and environmental programs managers at UAMS in Little Rock. He and his wife, Randa, have two sons, Ethan and Owen. Both of his parents, Darrell '76 and the late Debbie Williams '81, and his sister, Katilyn Lanier '12, are all Ozarks graduates.
Pridgin, a mathematics major and basketball player while at Ozarks, has supported his alma mater for 16 years. He is employed by Entergy-Arkansas Nuclear One as a chemistry specialist and also serves as the head brewer of the family business, Pridgin Family Brewery in Scranton. He and his wife, Ashleigh, have three children, Adrian, Vivienne and Eden. His parents, David '71 and Reba Pridgin '81, are both Ozarks alumni as well as his sister, Kari Skaggs '05. He also has a niece, Emily, and nephew, Ethan, who currently attend the University.
For more information on all the festivities taking place at Homecoming, please visit www.ozarks.edu/homecoming.