Mission
The mission of Army ROTC is to commission the future officer leadership of the U.S. Army and to motivate young people to be better citizens. Any cadet interested in developing leadership skills in a challenging environment will benefit from Army ROTC and there is no better unit than the Bayonet Battalion.
Those cadets who are committed to serving their country as an Army officer will find themselves well prepared by the Bayonet Battalion. Those who wish to be successful in civilian life will find themselves equally well prepared. Army ROTC is centered on leadership development, in both the classroom and field environment.
Army ROTC is a demanding program that requires commitment from each cadet, but the rewards more than equal the effort. All cadets will benefit from a greater understanding of their country and its military, and all will gain the confidence that comes with practical, demonstrated leadership ability. Those cadets who choose to serve, upon successful completion of the program and graduation will commission as a Second Lieutenant in the United States Army, Army Reserve, or Army National Guard.
---
The Bayonet Battalion
Army ROTC at the University of the Ozarks is a premier leadership development program that commissions 2LT's for the Army, Army Reserves, and Army National Guard. The Bayonet Battalion host school is UCA, where the battalion headquarters is located. Our partnership school is staffed with Military Science Instructors and is located at Arkansas Tech University in Russellville. All students take ROTC courses at UCA.
---
ROTC Scholarships
Whether you're a college-bound high school student or already attending a college or university, Army ROTC provides students with the chance to compete for scholarships. Scholarships are awarded based on a student's merit and grades, not financial need.Army ROTC scholarships consist of:
Two, three, and four-year scholarship options based on the time remaining to complete your degree.
Full-tuition scholarships
The option for room and board in place of tuition, if you should qualify
Additional allowances for books and fees
Living Expenses
Army ROTC scholarships also provide monthly living allowances for each school year. You can earn certain amounts depending on your level in the Army ROTC curriculum:
1st year, $300 per month
2nd year, $350 per month
3rd year, $450 per month
4th year, $500 per month
This allowance is also available to all non-scholarship Cadets contracted in the Army ROTC Advanced Course.
All scholarships applicants must understand that branching Active Duty is not guaranteed. Assignments are based on the needs of the Army. Scholarship cadets may be branched into the U.S. Army Reserve or Army National Guard.
---
Scholar – Athlete – Leader (S – A – L)
Bayonet Battalion seeks student candidates that embody "scholar, athlete, and leader" characteristics. Army Officers are scholars from the beginning. Possessing a Bachelor's degree is a requirement to be commissioned as an officer. Army Officers lead America's sons and daughters into combat. A higher level of physical fitness is required to lead America's Soldiers. The level of leadership required to face our adversaries on the battle field requires trust unlike any other profession. Research has shown that individuals that possess S – A – L characteristics tend make confident, agile, and trustworthy leaders that our Soldiers need.If you are a person that likes to be challenged, enjoys physical fitness, and puts others before yourself, you should check out the Army ROTC program. Students who bring the following attributes to the Military Science program have the highest rate of success.
S – A – L criteria listed above are not required but preferred according Cadet Command Pamphlet 145-1. A strong desire and will to successfully complete the Military Science program can overcome shortfalls in any of the above-listed attributes.
Students are encouraged to participate in weekly physical fitness and athletic activities throughout the school year. Students will prepare for and take an Army Physical Fitness test that evaluates ability to accomplish three exercise tasks:
Push-ups (2 minute time limit)
Sit-ups (2 minute time limit)
Two-mile run (score based upon completion time)
| | | |
| --- | --- | --- |
| Scholar | Athlete | Leaders |
| Valedictorian/Salutatorian | Varsity Letter From HS Team | Elected member of student government, class or activity |
| Membership in National Honor Society | Member of regional/city/competitive league | Captain of athletic or academic team |
| Honors or Advanced Placement Program graduate | Either active involvement in organized competitive team sports or active involvement in individual athletic competitions (triathlon, mountain biking, running, martial arts, etc.) | Eagle Scout/Gold Star |
| GPA over 3.0 and SAT/ACT over 1100/24 | | Served in position of responsibility in school/club or private organization and leader in volunteer service organizations/activities |
| Top 10% of class | | |
---
Summer Military Professional Training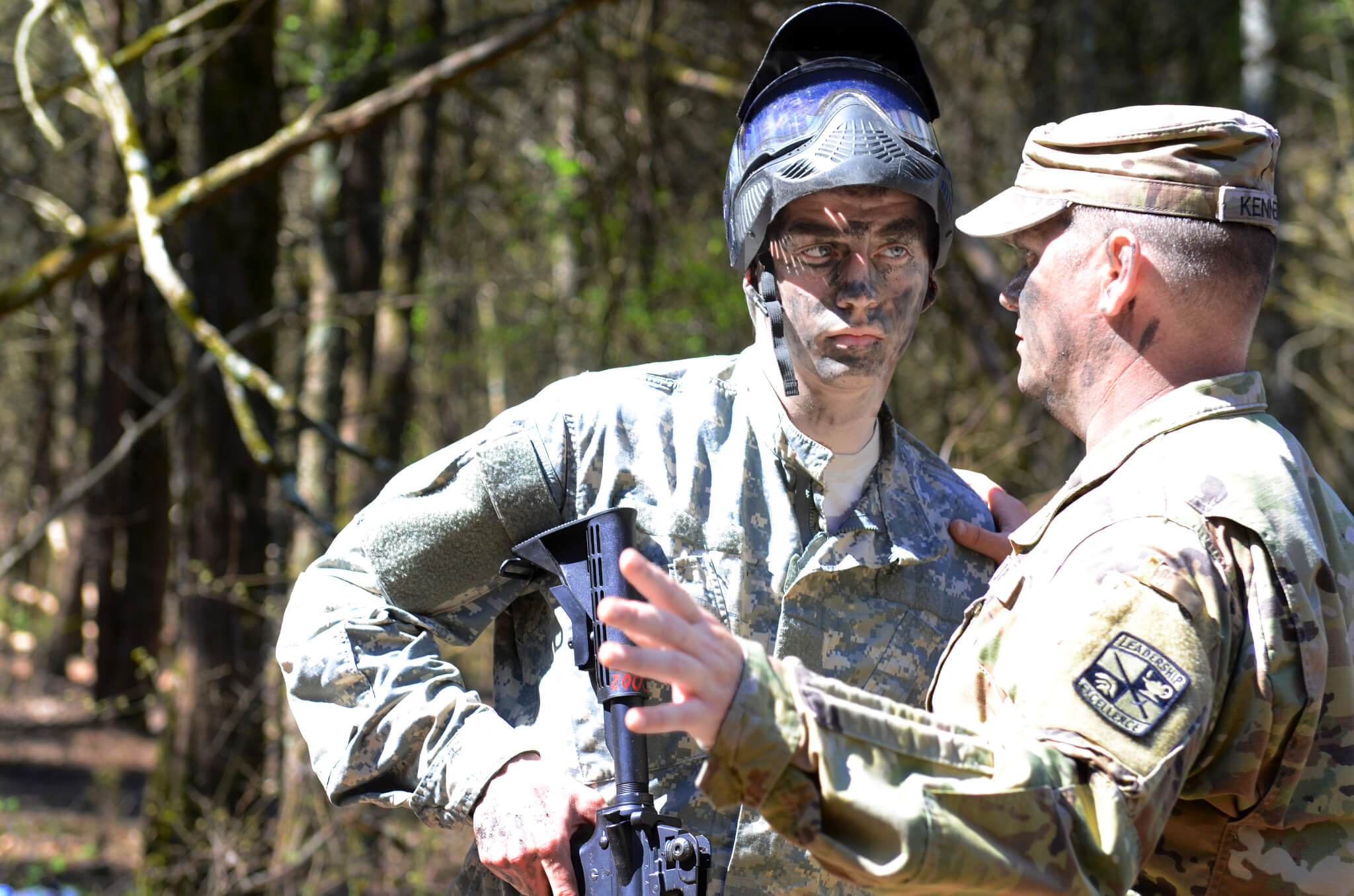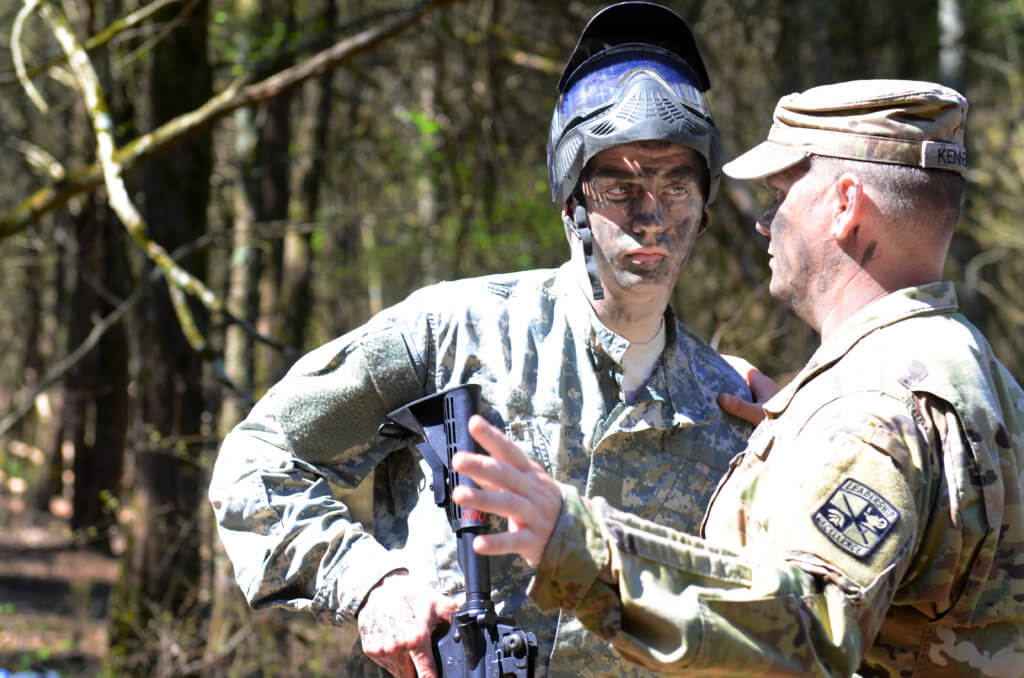 The Cadet Professional Development Training (CPDT) program supplements campus training with practical leader development experiences and some additional skill identifier awarding courses. Cadets train in Army schools and with Active and Reserve units. Opportunities include Cadet Troop Leader Training (CTLT), Cadet Practical Field Training (CPFT), Airborne, Air Assault, United Kingdom Officer Training, Pre-Combat Diver Qualification Course and much more.
---
ROTC Internship Opportunities
Provide training opportunities for Cadets in technical fields and research areas with the Department of Defense, Universities of various Government and Civilian agencies in both CONUS and OCONUS.
---
Contact Information
We want you to go boldly into the future, using the things that make you different to make a difference in the world. More importantly, our admission staff will work with you to ensure that Ozarks is the best place to enhance who you are for the future you want. Feel free to contact us with further questions.
Captain Mitchell
jmitchell48@atu.edu
479-498-6066