Information is Updated Week days at 08:30Am ct
---
Since the start of the COVID-19 pandemic in the early months of this year, University of the Ozarks has continuously planned and adapted to the ever-changing circumstances of this unpredictable health crisis. Led by a multi-sector team – the Task Force to Repopulate Campus – the University has created a public health and operations framework for the safe repopulation of campus and return to classes for the 2020–21 academic year. Our planning explored multiple scenarios, which gives us the ability to change direction if conditions or the guidance of government and public health officials evolve. At the heart of all the University's planning has been and will continue to be the health and well-being of all University members.
While University of the Ozarks and the entire world continue to face challenges from COVID-19, it is critical that we take care of each other and ourselves. One of the greatest strengths of our University is the cohesive and supportive community that we have all come to rely on. While this pandemic presents many unique and serious challenges, we are confident that this collective spirit will elevate us as we navigate the coming weeks and months. We know that many in our campus community are eager to return to campus, while others may need to continue to learn and work remotely. We will continue to foster community across campus, in-person and virtually, in new and innovative ways. We will follow new health measures and take personal responsibility as part of our efforts to prioritize health and well-being.
The Guidelines below will serve as the guidepost for repopulating campus this academic year :
Testing:
All unvaccinated students, faculty, and staff will be required to test on a weekly basis in the Mabee Gymnasium, beginning on Sept. 1. A rapid antigen test will be performed. If the test result shows "positive" for antigen, then a PCR test will be performed. The PCR results are expected back in 24-48 hours. If you are fully vaccinated or partially vaccinated (one of the two required shots) by the Sept. 1 deadline, you will be exempt from the weekly testing. More information on the weekly testing will be announced as details are finalized.
Students/Faculty/Staff Quarantine Guidelines:
If you have been in close contact with a positive COVID-19 person and you are not fully vaccinated, you will need to quarantine for 14 days, even if you don't feel sick. Close contact, generally, means you were within 6 feet of the person for at least 15 minutes total while they were infectious (masked or unmasked). COVID-19 patients are considered infectious two days before their symptoms started, or two days before their positive test do not develop symptoms.
If you have been in close contact with a positive COVID-19 person and you are fully vaccinated, you do not have to quarantine if you do not have symptoms. If you develop symptoms, you should isolate and get tested for COVID-19.
The incubation period of the virus that causes COVID-19 is up to 14 days. Therefore, the safest quarantine period would last 14 days from the most recent exposure to the positive patient.
All close contacts should get tested for COVID-19 by PCR test about five (5) days after the last exposure to the positive person.
In accordance with new CDC guidelines, the 14-day quarantine period can be modified on a case-by-case basis to end after 10 days without testing if no symptoms have occurred. Or, it can end after 7 days if no symptoms have occurred and a test returned a negative result. Note that the test sample must have been collected at least 5 days after exposure. Send-off PCR tests are preferred as the testing method.
If you are exposed again during quarantine, the period must start over again. If you develop symptoms or test positive for COVID-19 during the quarantine period, you must follow the instructions for isolating yourself.
Students, please note: Quarantine spaces are limited on campus. Unvaccinated students will have to make special arrangements to quarantine in-place or at home if quarantine spaces are no longer available. Fully vaccinated students who are asymptomatic will not be required to quarantine. Symptomatic students will have to make special arrangements to quarantine in-place or at home.
Quarantine in-place means you will be confined to your residence hall room or apartment and will only be allowed to use the bathroom. Food will be delivered to your residence hall or apartment from dining services as per your daily meal selection on the Aramark's transact app. If you have an unvaccinated roommate, they will be required to quarantine. If they are vaccinated and asymptomatic quarantine will not be required for them.
Faculty/Staff, please note: The two-week paid sick and family leave benefit for COVID-related illness that has been offered by the American Rescue Plan Act of 2021 will not be in effect during the upcoming academic year. Any sick days taken during the 2021-22 academic year, including COVID-related absences, must be counted against an employees' University-accrued sick or vacation days.
As a reminder of the current COVID guidelines on campus:
For those faculty, staff and students who are UNVACCINATED or NOT FULLY VACCINATED:
Per CDC guidelines, those members of the campus community who are unvaccinated are required to wear masks when they are inside a campus building and in close proximity (same room, public space, restrooms, etc.) with others who are either vaccinated or unvaccinated. Masks do not have to be worn when outside or alone in an office or room with the door closed, alone in a vehicle or when eating or drinking — essentially, when you are alone in a private space.

Those who are not fully vaccinated or those who have not uploaded their vaccination cards will be asked to fill out the daily COVID certifications that will begin on Aug. 16. They will also be required to undergo weekly COVID testing (see above).
In addition, the University's plan for the Fall 2021 Semester is to require all faculty and students to wear masks and practice social distancing in all academic classrooms that have 10 or more people. Masks will also be required for any student, faculty or staff indoor gathering of 10 or more people.
In outdoor gatherings of any size, masks are not required. However, participants should continue to practice social distancing.
Thank you for your continued efforts to help keep our campus community healthy and safe.
Guiding Principles on Returning to Campus
These guidelines will be updated as appropriate. The online version posted on our webpage supersedes any printed version.
---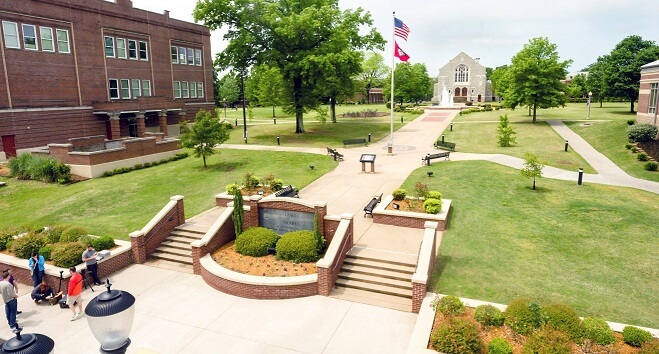 Critical Info About Coronavirus-Related Decisions (Read All)
The Reopening Task Force provides some guidelines for the University community.
President Dunsworth announced that University of the Ozarks is planning to return to face-to-face education in the fall.
President Dunsworth announced that University of the Ozarks is suspending all classes until after Spring Break. Afterwards, classes will resume in an all online method.
---
HEERF I, II, & III Reporting
As part of the CARES Act, CRRSA Act, and ARP Act, the University of the Ozarks will provide reporting on the disbursement of funds received from the Higher Education Relief Funds I, II, and III.
---
Facebook Live
President Dunsworth gave live campus updates about the state of the University via Facebook through the spring semester. For those who do not have Facebook, we've also saved these updates on YouTube.
Like our Facebook page for notifications of any future live updates.
Previous weekly updates:
| | | |
| --- | --- | --- |
| September 3, 2021 | Facebook | YouTube |
| August 27, 2021 | Facebook | YouTube |
| January 22, 2021 | Facebook | YouTube |
| December 11, 2020 | Facebook | YouTube |
| November 20, 2020 | Facebook | YouTube |
| October 30, 2020 | Facebook | YouTube |
| October 16, 2020 | Facebook | YouTube |
| October 9, 2020 | Facebook | YouTube |
| October 2, 2020 | Facebook | YouTube |
| September 25, 2020 | Facebook | YouTube |
| September 18, 2020 | Facebook | YouTube |
| September 11, 2020 | Facebook | YouTube |
| September 4, 2020 | Facebook | YouTube |
| August 28, 2020 | Facebook | YouTube |
| August 21, 2020 | Facebook | YouTube |
| August 14, 2020 | Facebook | YouTube |
| August 7, 2020 | Facebook | YouTube |
| July 31, 2020 | Facebook | YouTube |
| July 24, 2020 | Facebook | YouTube |
| July 17, 2020 | Facebook | YouTube |
| July 10, 2020 | Facebook | YouTube |
| June 19, 2020 | Facebook | YouTube |
| May 22, 2020 | Facebook | YouTube |
| May 15, 2020 | Facebook | YouTube |
| May 8, 2020 | Facebook | YouTube |
| May 1, 2020 | Facebook | YouTube |
| April 24, 2020 | Facebook | YouTube |
| April 17, 2020 | Facebook | YouTube |
| April 9, 2020 | Facebook | YouTube |
| April 3, 2020 | Facebook | YouTube |
| March 27, 2020 | Facebook | YouTube |
| March 20, 2020 | Facebook | YouTube |