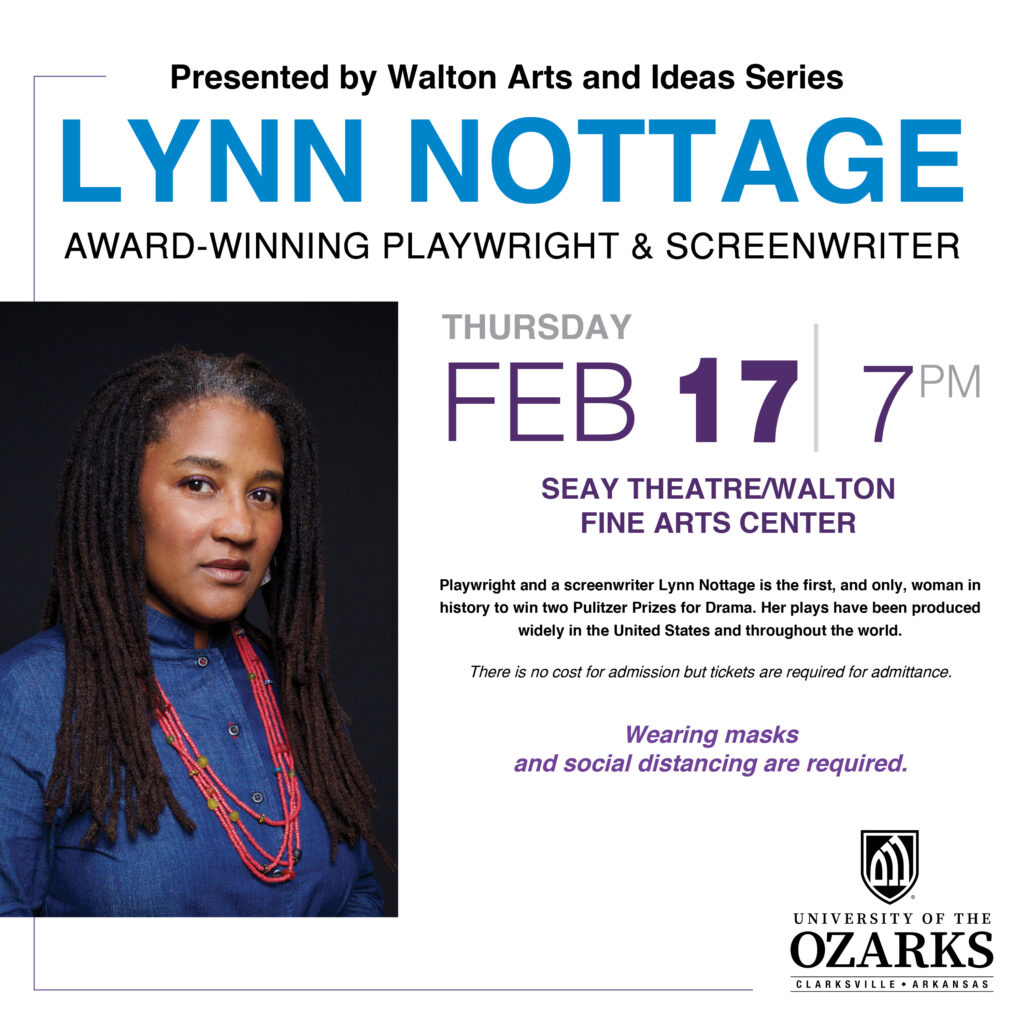 University of the Ozarks will present Lynn Nottage at 7 p.m. on Thursday, Feb. 17.
The event, which is part of the University's 2021-22 Walton Arts & Ideas Series, will be held in the Seay Theatre, located in the Walton Fine Arts Center. Masks and social distancing protocols will be enforced.
A playwright and a screenwriter, Lynn Nottage is the first woman in history to win two Pulitzer Prizes for Drama. Her plays have been produced widely in the United States and throughout the world. Her recent work includes "Floyd's" and the musical adaptation of "The Secret Life of Bees." Nottage's plays include, "Sweat," "Mlima's Tale," "By the Way," "Meet Vera Stark," "Ruined," "Intimate Apparel," "Fabulation, or the Re-Education of Undine," "Crumbs from the Table of Joy" and "POOF!" She has also developed This is Reading, a performance installation at the Franklin Street, Reading Railroad Station in Reading, PA. She was a writer and producer on the first season of Netflix series She's Gotta Have It, directed by Spike Lee. Nottage is an Associate Professor at Columbia University School of the Arts, and the recipient of a MacArthur "Genius Grant" Fellowship, Steinberg "Mimi" Distinguished Playwright Award and the Doris Duke Artists Award, among others. She is a member of the Dramatists Guild. Among her upcoming projects are an opera adaptation of "Intimate Apparel" and the musical "MJ," featuring the music of Michael Jackson, to premiere on Broadway.
Related Events