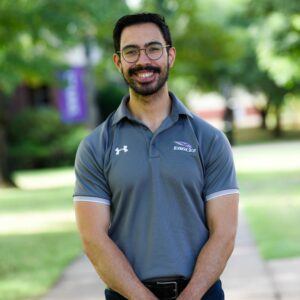 Bright suns (common greeting on the Star Wars planet of Batuu) all! Aside from being an avid Star Wars fan and anime enthusiast, I have a keen interest in many academic realms. Specifically, I love to study and share my passion for nutrition, exercise physiology, and resistance training, as well as how these topics inexorably intersect. 
The classes I teach include HSC 1023 – Personal Health & Safety, HSC 2503 – Drug Education, HSC 3003 – Nutrition, HSC 3133 – Exercise Physiology, and HSC 4213 – Strength & Conditioning. In each section, you'll get an earful of foundational course content, personal anecdote, and incessant/unyielding dad jokes – which is okay because I am a new father. You'll learn very fast that I'm very passionate about my field and simply want to share it with y'all, or at least get you a bit more intrigued in the process.
With regards to my personal life, my wife, Sarah, and I are both originally from the Bay Area, CA, and lived in Waco, TX for three years before moving to Clarksville with our one year old son, Ezra. We love watching movies and taking road trips!
If you're interested in my research please visit my ResearchGate at https://www.researchgate.net/profile/Steven-Machek and view some of my highlighted publications below:
Machek et al. (2020). Considerations, possible contraindications, and potential mechanisms for deleterious effect in recreational and athletic use of selective androgen receptor modulators (SARMs) in lieu of anabolic androgenic steroids: A narrative review.  Steroids, PMID: 33148520
Machek et al. (2020). Neoprene knee sleeves of varying tightness augment barbell squat one repetition maximum performance without improving other indices of muscular strength, power, or endurance. Journal of Strength and Conditioning Research. PMID: 33201154 Machek et al. (2020). Myosin heavy chain composition, creatine analogues, and the relationship of muscle creatine content and fast-twitch proportion to wills coefficient in powerlifters. Journal of Strength and Conditioning Research, PMID: 33105350