Location

Walton Fine Arts Center 168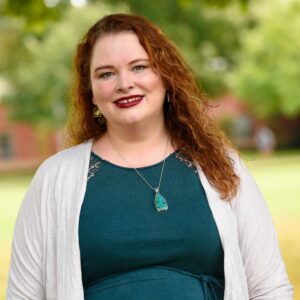 I am a teacher, director, and actor originally from a small town in Kentucky. I hold a MFA in Directing from The University of South Dakota and a B.S. in Theatre with a minor in Dance from South Dakota State University.

Coming from a small town, I am passionate about how the arts serve to bring us together as a community and help us explore what it means to be human. As I have worked in areas from the eastern part of the country through the mid-west, I developed a passion for directing and teaching. As a teaching artist, I value the journey of production and building ensemble.  I continuously find myself re-energized by the magic of the rehearsal space and the theatre classroom. I have been blessed to study Shakespeare and Performance at Mary Baldwin University, The American Shakespeare Center, The Globe, and mask work at NALPA. My directing credits include productions at The University of the Ozarks including The Diary of Anne Frank and Barefoot in the Park.  Other credits include, Prairie Repertory Theatre's The Little Mermaid, South Dakota Shakespeare Festival's The Comedy of Errors and co-directing their school tours, University of South Dakota's Two Gentlemen of Verona and Venus in Fur, and Calumet Player's Into the Woods. Favorite performances include Martha in White Christmas, Bawd in Pericles, and Norma in Plaza Suite.

In the end, I believe that the fantastical playground produced by the theatre creates a world to live, discover, empathize, and grow so that when we return to reality we are changed.  In life and art we must engage ourselves.  I get the best notes on that from Puddles, my dog, who reminds me of what it is to live in the moment.  The University of the Ozarks is a home and community where our program brings students together to examine the individual and the world through the stories we tell.
Special Projects / Initiatives
I am an active member at the state level in the Kennedy Center American College Theatre Festival.  This organization exists to celebrate the educational and creative process of university and college theatre. KCACTF promotes professional standards and provides students and faculty with opportunities to bridge the academic and professional worlds.  My individual research and interests revolve around performances of Shakespearean texts using original practices in contemporary theatres and movement work for actors as a means to embodying character.  I have presented at The Blackfriars Conference and several KCACTF Festivals on these subjects.