Location

Walton Fine Arts Center - 210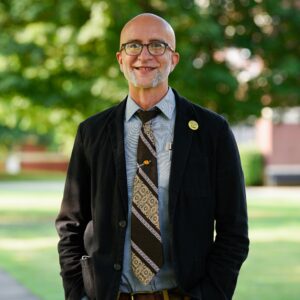 I am the Assistant Professor of Philosophy at the University of the Ozarks. I earned my PhD from The University of Iowa in 2009. I teach a breadth of courses, such as PHL 1003 Critical Thinking and Logic, PHL 1113 Ethics Religions Cultures, PHL 2113 Phenomenology and Existentialism, PHL 2123 Critique of Racism, PHL 3013 Greek to Arabic Philosophies, REL 3033 Philosophy of Religions, REL 2073 Hinduism and Buddhism, PLS 3103 Contemporary Political Thought, and many others.
Students can look forward to a lot of things in my classes, like fun and dynamic daily discussions. We often have our minds blown through high practices with deep questions. I also use a systematic structure that scaffolds content, with reliable organization and routine, and I return feedback on assignments quickly. One thing I love about our class discussions is the consistent connection of course content to "real" life applications in law, business, culture, art, music, and more.
Beyond the classroom and research, I advise the Ozarks' Philosophy Symposium, the campus philosophy club. We hold regular gatherings throughout each semester where we bring philosophical questions to life, on topics such as free will, war and propaganda, virtual identities, social values about sexualities, and more. Included below are pictures from some of our meetings! I have also worked with the campus's Black Student Association on promoting awareness about racism and racial equity.
Special Projects / Initiatives
I have researched and published in a variety of areas of scholarship, including work on comparative philosophy of religions, Zen Buddhism, accreditation in higher education, health care ethics, philosophy of education, philosophical theology, philosophy of language and questioning, Soren Kierkegaard, the Book of Genesis, comparative philosophical cosmology, Orientalism, and more.
BOOKS
I am currently working on my third book, titled "Interpretation: A Critical Primer," with Equinox (estimated date of publication in March 2023). My second book "Philosophical Hermeneutics and the Priority of Questions in Religions" (Bloomsbury, 2022) examines the roles questions play in religious discourse. My very first book "Using Questions to Think" (Bloomsbury, 2021) examines the roles questions play in critical thinking and reasoning.
You can find links to my books and articles here:
https://www.researchgate.net/profile/Nathan-Dickman