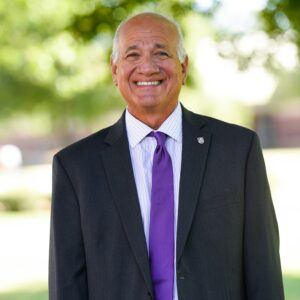 Jeffery Elwell currently serves as Vice President for Academic Affairs at the University of the Ozarks. Prior to that he served as President and Chancellor at Eastern New Mexico University (2017-20); Dean of the College of Arts and Sciences at UT Chattanooga (2012-17); Provost at Auburn University Montgomery (2010-12) and Founding Dean of the College of Fine Arts and Communication at East Carolina University (2004-10). Elwell chaired the Department of Theatre Arts at the University of Nebraska (1999-2004) and at Marshall University (1996-99). He served as director of theatre at Mississippi State University (1989-1996) where he was a tenured full professor.
Elwell is the author of 36 plays and has had more than 100 productions, including Evening Education*, The Art of Dating*, Being Frank*, Dead Fish*, Stepping Out*, Escape From Bondage*, A Christmas Carol (adaptation)* which are published by Samuel French, Palmetto Play Service, and Playscripts, Inc., respectively. Twenty-one of his plays have been produced by amateur and/or professional theatres in the United States and Abroad (in addition to those listed above) including Dinnertime, Falling to Earth, Family Lessons, Fenced In, First Date, Hope and Dreams, My Day, Raising Stallions, The Raven's Revenge (adapted as a chamber opera),
Testimonies, Truth and Consequences, The Turn Down, Unseen and Violent Images. He has had 23 productions of his plays in New York and seven of his plays have been produced abroad. Elwell holds a Ph.D. in Speech Communication/Theater from Southern Illinois University, a master's degree in Communication/Theatre from the University of Southwestern Louisiana, and a bachelor's in English from California State University-Bakersfield.