Location

Walton Fine Arts Center, 179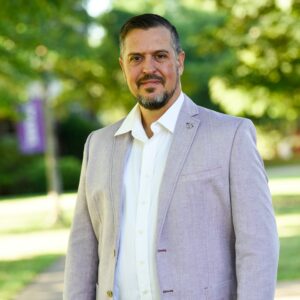 Matthew Bumbach (he/him) is known for heartfelt choral programming that engages singers and audiences alike. He uses choral performance to develop the whole person and equips students with the tools to think deeply, create imaginatively, and lead transparently. For this purpose, he focuses not only on quality performance that is culturally informed and carefully polished, but an ethical path to excellence. Dr. Bumbach works to create an inclusive environment that focuses on equity and justice so that all students receive an equitable experience.
With a research interest that focuses on the confluence of classical choral music and popular musical styles Dr. Bumbach frequently writes, presents, and lectures on bluegrass style, fusion choral works, technology integration in choral performance, and storytelling in virtual choir videos. He has published articles in ACDA's The Choral Journal, NCCO's Choral Scholar, Chorus America's Research Memorandum Series, SDMEA's South Dakota Musician, and FMEA's Florida Music Director. His choral compositions have been performed by the Virginia Chorale, Florida Singing Sons Boychoir, the Orlando Chorale, Fredonia State University Chamber Singers, College of Central Florida, University of Miami, and several middle and high school choirs. His published choral music is carried by Hal Leonard and his independent publications can be found at sheetmusicplus.com.
Dr. Bumbach has taught middle school, high school, community college, and university choirs in Florida and South Dakota. He earned his Bachelor of Music Education degree from Stetson University, his Master of Music degree in choral conducting from the University of South Florida, and his Doctor of Musical Arts degree from the University of Miami's Frost School of Music. 
Dr. Bumbach lives in Clarksville, AR with his wife and twin daughters.