Location

Jones Learning Center 144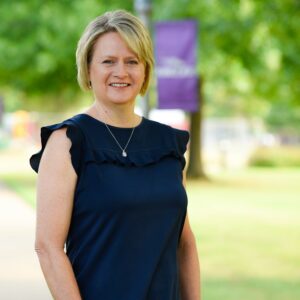 What do you enjoy about being a part of the JLC?
Many students in the JLC were told they are not smart enough to attend college and believe that they cannot succeed. However, with the support of JLC services and staff, they discover academic success that was once thought impossible. Seeing how success changes a student who often doubted his or her abilities is very rewarding.  Helping a student turn a disability into an opportunity is what I enjoy about being a JLC coordinator.  
Special part about being at Ozarks?
Ozarks is my second family and students experience this same feeling after they become a part of the University. Our small size gives students the chance to create bonds with the faculty, staff, and other students in a way that a large university does not provide. Knowing each other on this personal level is often key to success and gives confidence and support that continues beyond four years.
What would you say to parents or students who are thinking about the JLC for their education? The JLC provides a tremendous amount of academic and personal support for students with learning disabilities. Students who join the JLC family are provided with a strong circle of encouragement and support that aids in completing the tasks required in college. A large part of the support that a JLC student receives is from the one-on-one daily assistance they receive from their academic support coordinator. The coordinator is the student's personal academic coach who helps them organize, prioritize, and stay on top of their coursework. The JLC also provides additional services such as one-on-one tutors, class notes, and writing specialists. The JLC specialists are available to work with students on a daily basis. With the combined efforts of the JLC staff and coordinators, students have a greater opportunity to succeed in college.